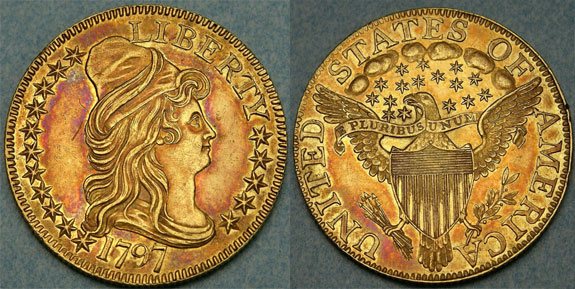 The 1797 Draped Bust Half Eagle (Buy on eBay) with the heraldic eagle reverse is found in three different varieties, with two of these represented by only a single known specimen. These varieties were created through the pairing of different obverse dies with the new heraldic eagle reverse die. The mintages for each of the varieties remain unknown and included in the mintage figure for 1798.
The first unique variety features a normal date with a 16-star obverse, while the second features a normal date with a 15-star obverse. Each is identified by a single known specimen which is contained within the Smithsonian Institution's National Numismatic Collection. This status makes these two varieties uncollectible, as the representative examples are not available to the public market.
The third variety was created from a 1795-dated obverse die overdated to 1797 with the under-digit clearly visible. It is estimated that fewer than 20 examples still exist and offerings on the market are extremely infrequent.
Coin Specifications
Designer: Robert Scot
Composition: 91.67% Gold, 8.33% Silver and Copper
Weight: 8.75 grams
Diameter: 25 mm
Edge: Reeded